5 Food Tips for Healthy Sportspeople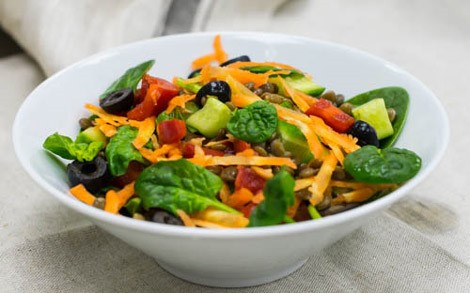 Eating right, spending time exercising and including some relaxation into your day can have a big impact. These small actions have the ability to increase health and vitality, reduce sick days and ensure you've got enough energy after work to enjoy our time doing the things that you love.
To support your total happiness, here is a list of the things you can do whilst at work to achieve a real impact on health. Try them out as soon as you can and see which work best for you.
1. EAT OUT, EVEN HOMEMADE
Take your lunch away from your desk, and preferably outdoors, even if it's just for 30 minutes
2. FOCUS ON PROTEIN
Make sure your lunch contains a good level of protein. Protein is slower to absorb, so rather than sending your blood sugar rocketing and then crashing, it will stay balanced. This means your energy levels will be maintained and you'll be able to make it through the rest of the day without an afternoon slump.
3. STAY HYDRATED
Keep a jug of water (perhaps with a slice of lemon and sprig of mint in it) on your desk as a reminder.
4. MAKE A MOVE
Get up from your desk and take short walks at regular intervals to keep your blood flowing and your motivation up
5. PLAN AHEAD
Keep a list of places that you can rely on for healthy food when you're short on time. Choose places where you can pre-order and plan what you'll be eating when instead of skipping or bingeing.