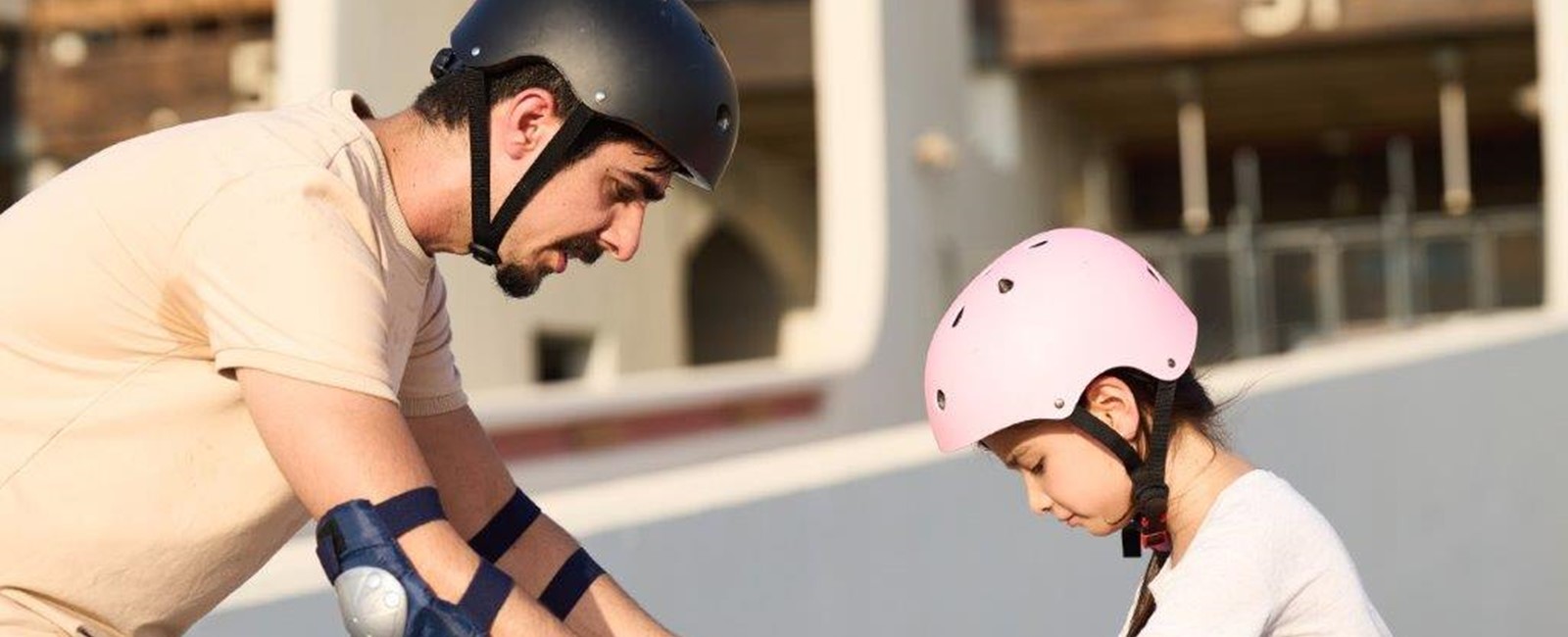 COACHING TEAM
Zayed Sports Academy's reputation as having the best sports coaches is because we've earned it - Zayed Sports Academy coaches have high standards to meet. Whether coaching aspiring superstars or family-oriented mums and dads, all of our coaches have proven technical and practical experience. Each tennis coach, padel coach, roller skating coach, and ice skating coach on our roster holds internationally recognized certification to ensure our players develop solid foundations and proper techniques.
TRAIN UNDER THE BEST PADEL, TENNIS, ROLLER SKATING & ICE SKATING COACHES IN THE UAE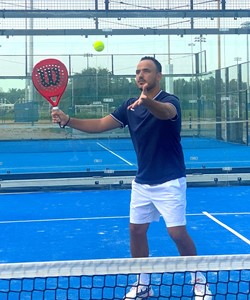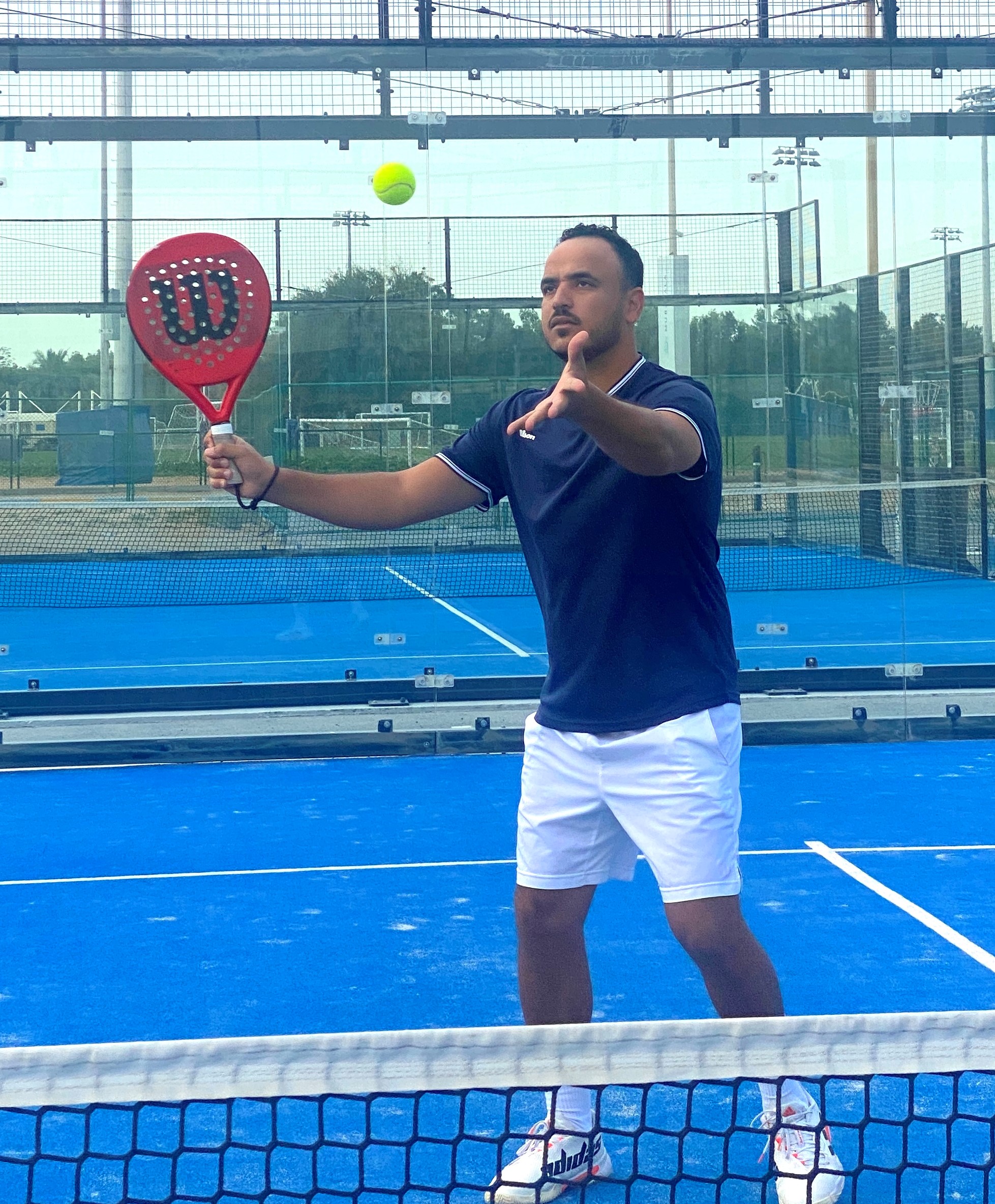 "Abdo" Abdul Rehman
Arabic Padel Coach
As a young boy, Abdo was inspired to start racket sports after years of watching Wimbledon with his father. Fanatic about sport, he continued to play tennis as he earned his Bachelor's and master's degree in physical education. It was after graduation that he discovered padel and its unique "smash" stroke. With this new passion, he pursued his education further with a specialized coaching certificate.
 As a coach, Abdo loves sharing the social and easygoing nature of padel. If you press him, he will inevitably share how angles and distances can really make a difference in your game.
Abdo keeps busy with other hobbies including web design and driving sports cars.
Nationality: Egyptian
Languages: English, Arabic
Location: ACTIVE Al Maryah Island
Ask About: Why his nickname is 3D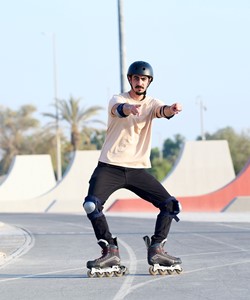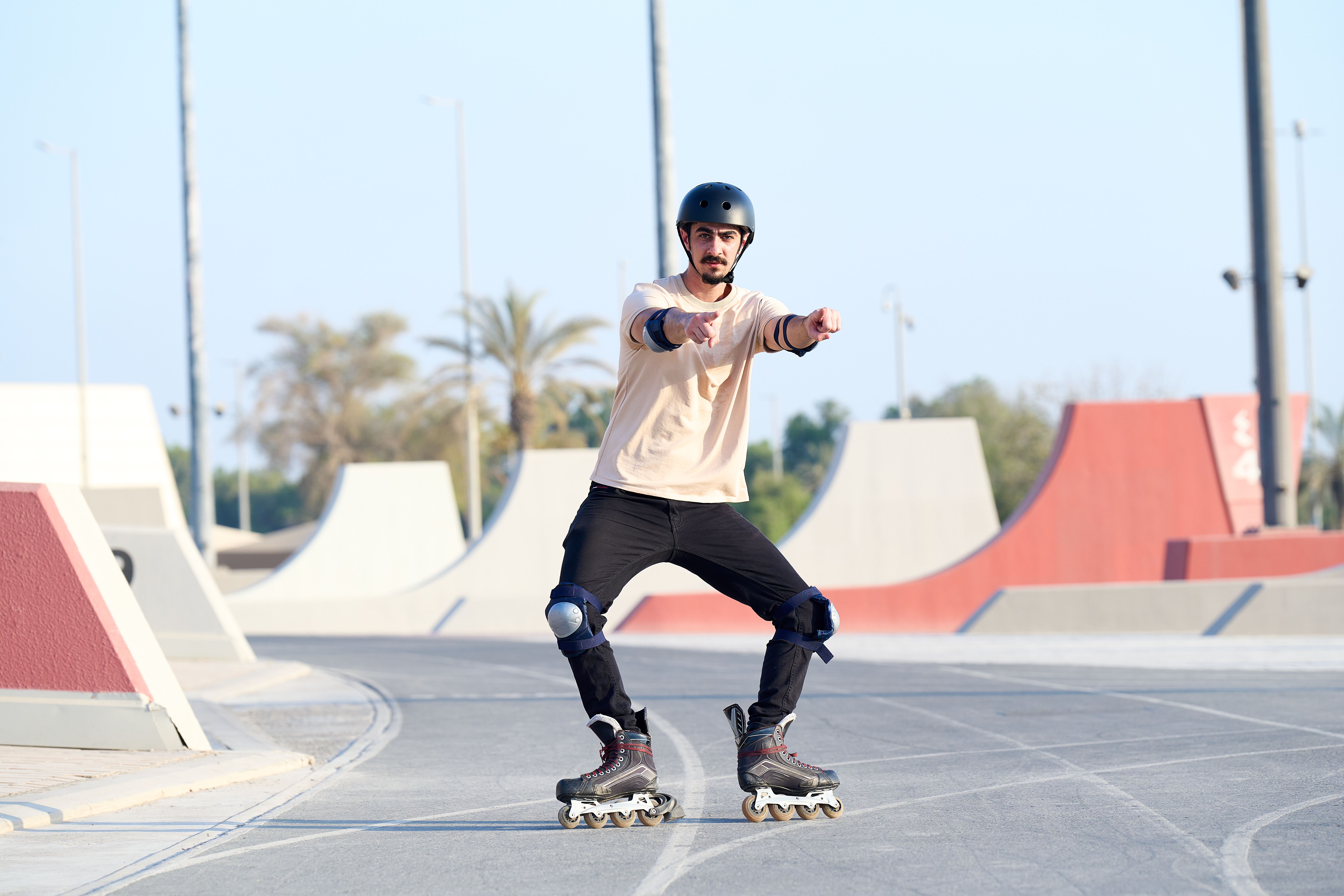 Abdulla Aljonydi
Roller Skating Coach
Abdullah started roller skating with friends around age 10. Inspired by Abu Dhabi Kings of Concrete, they'd gathering in groups at local skate parks to try new moves together. He learned how to turn, jump, flip and grind on his inline aggressive skates, a style equipped with an edge designed for sliding on rails. Abdullah honed his artistic style throughout the years and he eventually earned a spot to compete in junior freestyle event at a local Red Bull event.
He officially became a certified sports coach in 2022, first on the ice with the Ice Skating Institute of Asia, and then on wheels with the Inline Certification Program. He loves to see his students understand new skills and be able to make moves of their own. Certainly he will be demonstrating his favourite move, the rotating jump, during each term.
Computer graphics amination, calisthenics and break dancing are other ways that Abdullah stays busy.
Nationality: Syrian
Languages: English, Arabic
Location: Zayed Sports City
Ask About: Skating for 55km in a day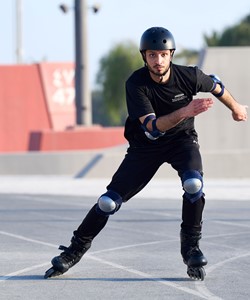 Ahmed Kanan Afridi
Roller Skating Coach
Growing up, the kids in Kanan's neighbourhood were always on bikes and scooters. When it came time for him to get his own wheels, he chose to be different and selected a pair of inline skates. At 6 years old, he was already a trend-setter, and he became a leader quickly. He'd would spend hours experimenting with tricks and moves, then teaching his brothers and friends the skills. His biggest artistic achievement is mastering the notoriously difficult grapevine, and he completed an endurance skate half marathon.
Kanan is certified as a coach by the Inline Certification Program for roller skating as well as by the Ice Skating Institute of Asia for ice skating. He has a great appreciation for the ability of skating to be done almost anytime and almost, and that the skates become part of you when they're on.
Aside from skating, Kanan is athletic and participates in football and running.
Nationality: Pakistani
Languages: English, Arabic, Urdu
Location: Zayed Sports City
Ask About: Expo 2020 on Wheels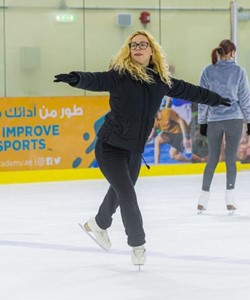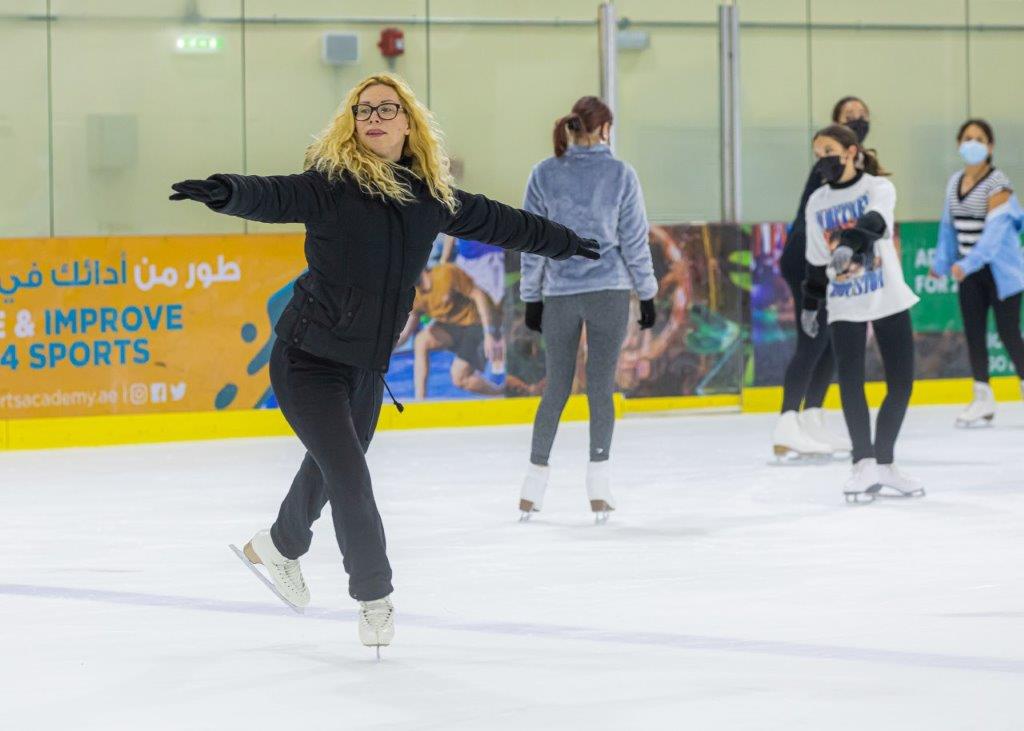 Bianka Padar
Figure Skating Coach
A competitive ice skater since age 6, Bianka's figure skating skills have captured attention of audiences across Europe and the Middle East. From participation in the World Figure Skating Championship to performances in touring ice shows, she has proven herself to be a talented figure skater.
Bianka's champion mindset led her to win five gold and silver medals at the Hungarian National Championships and subsequently to push her students to their full potential as a coach. Coursework in International Figure Skating Coaching as well as Ice Skating Institute gold level judging certification have further refined her coaching style. Her appreciation for the artistic and acrobatic combination of the sport also guide her instruction.
If you don't find Bianka at the ice rink, look for her at the stables. She is also an avid horseback rider.
Nationality: Hungarian
Languages: English, Hungarian
Location: Zayed Sports City
Ask About: Oversleeping before the Junior World Champion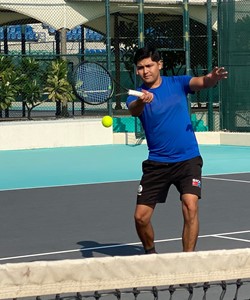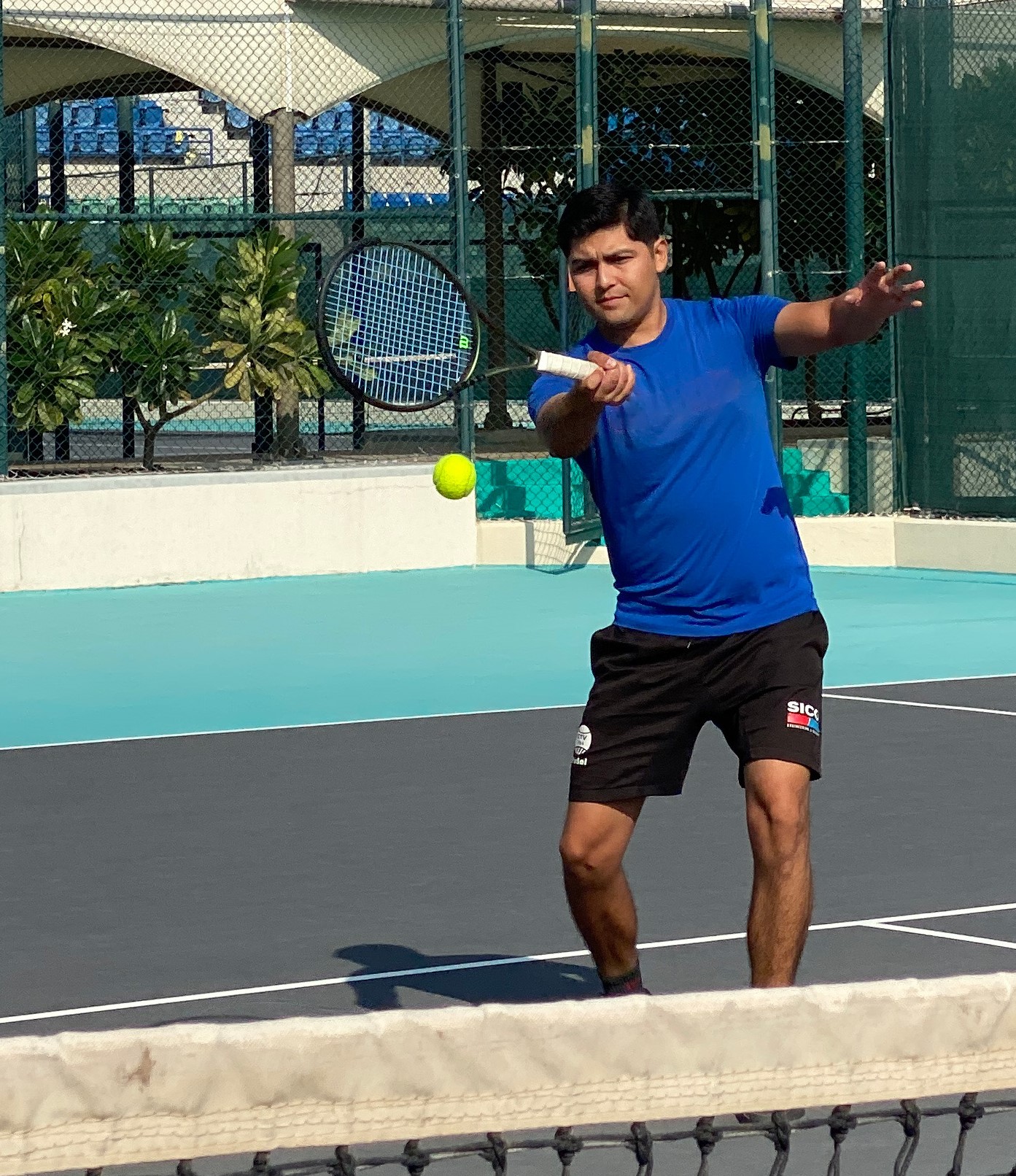 David Ocampos
Tennis Coach
David took his first tennis lesson at the age of 8. It was love at first swing and within a year, David started playing tennis tournaments. By 14, he was a Mexican national champion; in the years to come, trophies were collected alongside ITF ranking points. His next step was to represent his university, where he captained the tennis team and started his coaching career. David has always maintained a competitive drive, and through joining the Mexican Professional Tennis Association, he was able to continue playing in national Semifinal and Quarterfinal matches.
Before moving to Abu Dhabi, David owned a tennis academy that serviced three Mexican states and established the sport in a region where it had not existed previously. He completed PTR Level 1 training and has experience coaching on three continents. He's the preferred hitting partner of former ATP player Erick Ocampo, who is also his brother. Tennis is a sport that has a high standard of respect towards others, and this discipline is one of his favourite parts of playing.
Even in his free time, David is keeping busy with tennis-related content in books, TV and the internet. He also enjoys outdoor activities including calisthenics and walks.
Nationality: Mexican
Languages: English, Spanish
Location: Zayed Sports City
Ask About: His slick degree in a surprising field.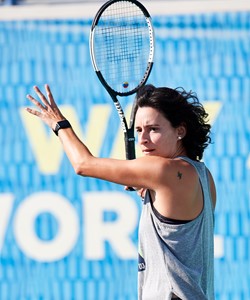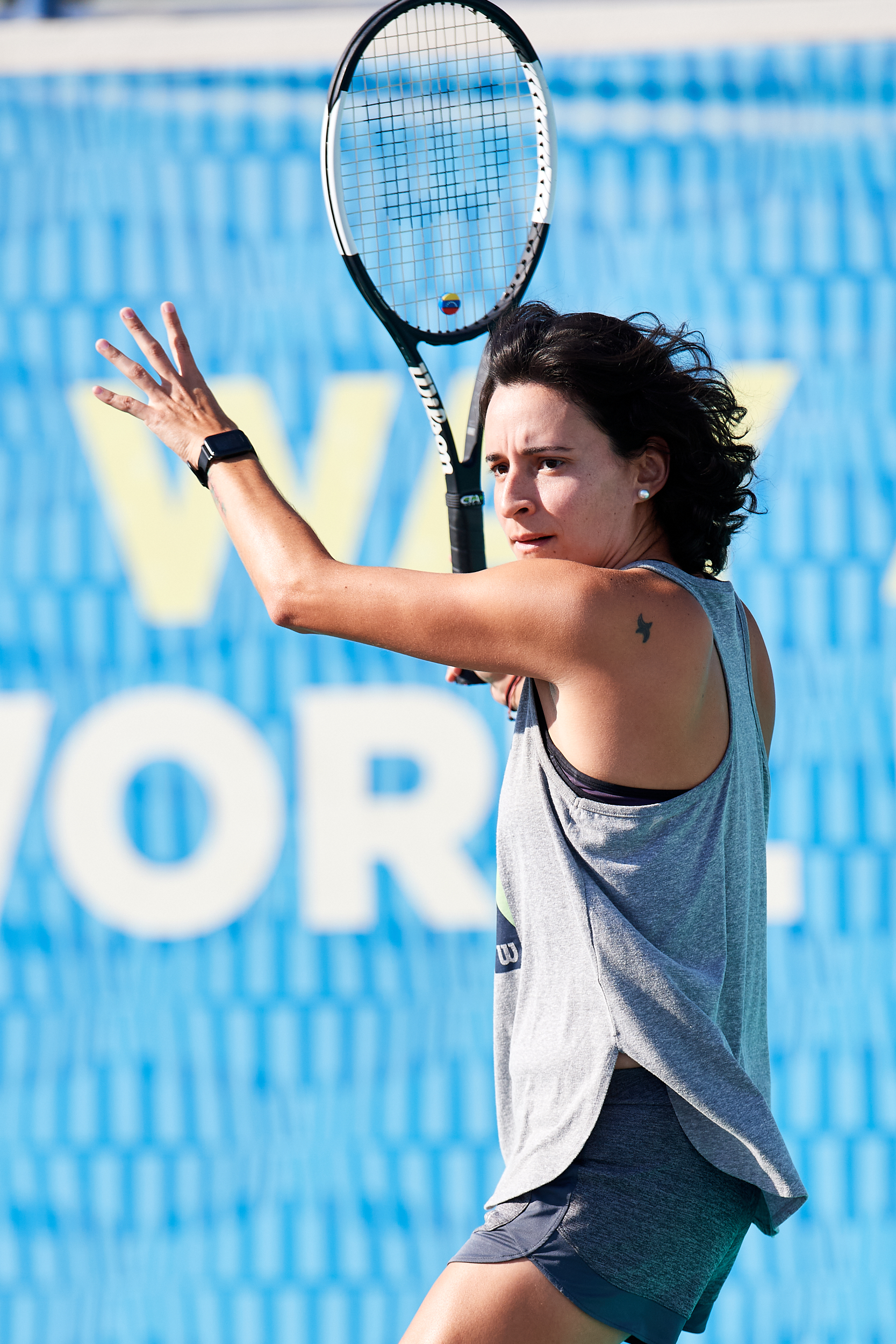 Erika Piñate Acosta
Tennis Coach
Erika is a former professional beach tennis player who is just as adept on the hard courts used by Zayed Sports Academy as she is on the sand. Rising quickly from a 13-year-old newbie to a 2-year undefeated college player, Erika's success was fueled by focus, determination and a positive outlook. She's turned this into a career, earning a degree in physical education and coaching, then becoming certified with the ITF.
She has played with, alongside and against many top players, serving as a coach for a WTA 111-ranked player and running sessions with Andy Roddick and Andy Murray at events. On the beach, she faced tough competition against Venezuela's best players in final matches at 8 national tournaments.
If she's not on the court, you might find Erika at the beach or watching movies.
Nationality: Venezuelan
Languages: English, Spanish
Location: Zayed Sports City
Ask About: Her beach tennis partner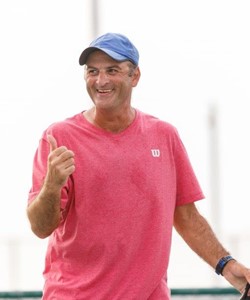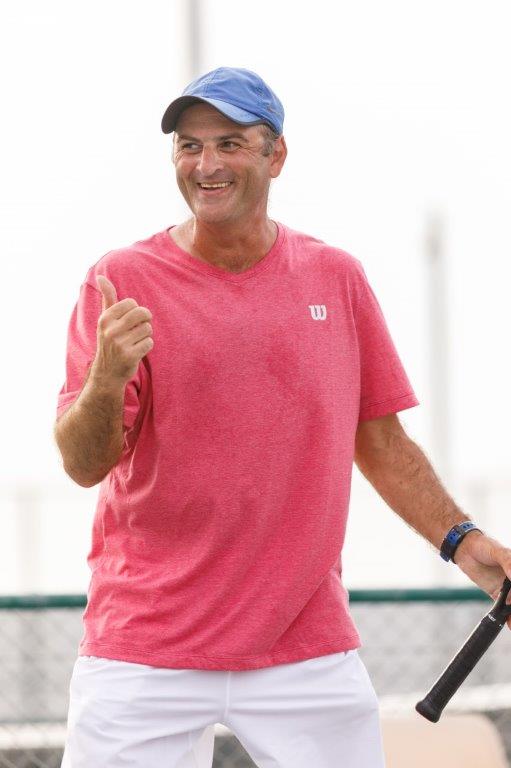 George Kikaleishvili
Tennis Coach
Strong enough to make the Georgian National Team at the age of 8, George is a fierce yet compassionate tennis professional who has played throughout the world. As a coach for more than two decades, he has also earned a number of qualifications from RPT, ITF USPTA and PTCA, as well as an MBA in Sport Management. The strategic side of the sport – game planning, developing and evolution – are what keep him hooked and drove him to turn his childhood favourite sport into a career.
George is active off the tennis court too, often walking or hiking outdoors.
Nationality: Georgian
Languages: English, Russian
Location: ACTIVE, Al Maryah Island
Ask About: His favourite match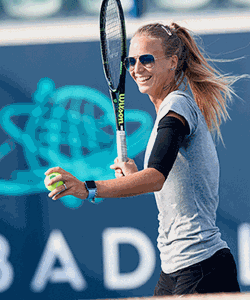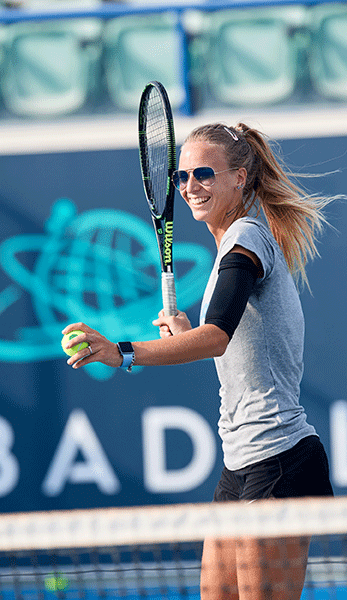 GORANA Stevanović Šarčević
Head of Tennis
Gorana's first tennis lesson was at age 6, and since that time she has proven herself to be incredibly talented in the sport. As a player, she reached No. 7 in Europe, was ranked by WTA, also earning three national championships before becoming a tennis instructor in 2011. Having worked in Germany, Serbia and the UAE, Gorana's favourite thing about tennis is the feeling of proudly lifting a trophy. This talented female tennis coach is licensed by the Tennis Federation of Serbia.
​When she has free time, Gorana can be often found studying to finish her sports degree or spending time with friends.
Nationality: Serbian
Languages: English, Serbo-Croatian
Location: Zayed Sports City
Ask About: Her dog, Kan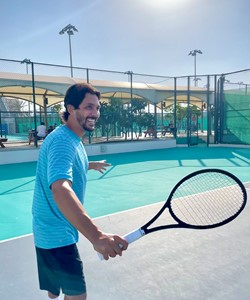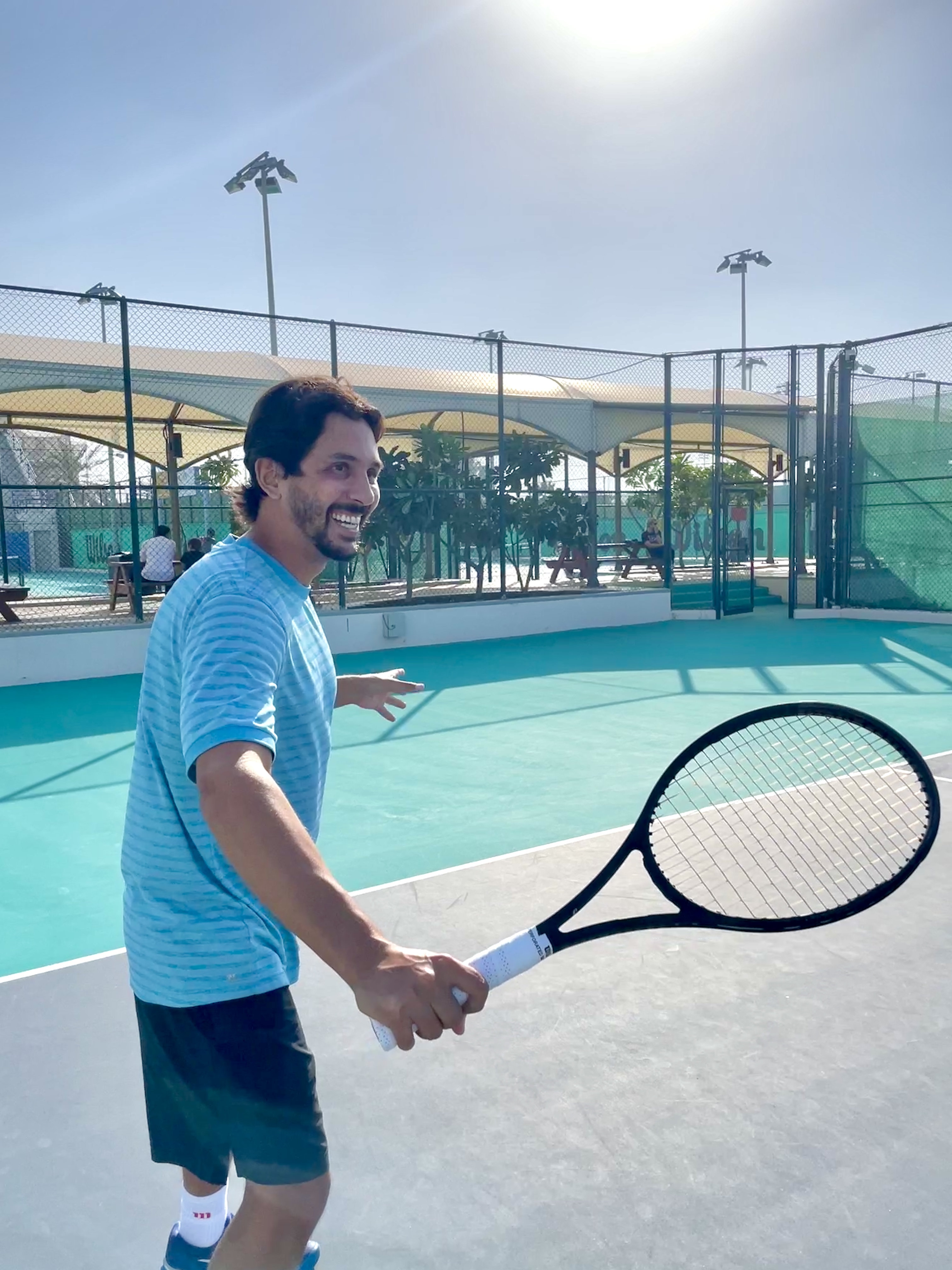 Iverson Barros
Tennis Coach
Although he started playing tennis at age 6, it is after three decades of playing that Iverson appreciates how the sport can be played forever. His love for the sport ignited as a young player, pitting him against the likes of Andy Roddick and Bruno Soares and winning him a U16 Doubles World Championship in 1998. As an adult player, Iverson ranked in doubles and singles in the ATP and has been a hitting partner while Garbiñe Muguruza and Barbora Krejčíková prepared for their WTA finals matches.
On the other side of the net, Iverson serves as an ITF certified coach with more than 20 years of experience that includes a degree in Physical Education and jobs in Brazil and Singapore before reaching UAE. 
To relax and take his mind off of work, Iverson enjoys fishing and is a master of Brazilian barbeque.
Nationality: Brazilian
Languages: English, Portuguese, Spanish
Location: Zayed Sports City
Ask About: His favourite Brazilian footballer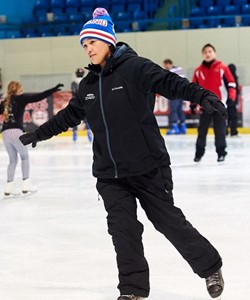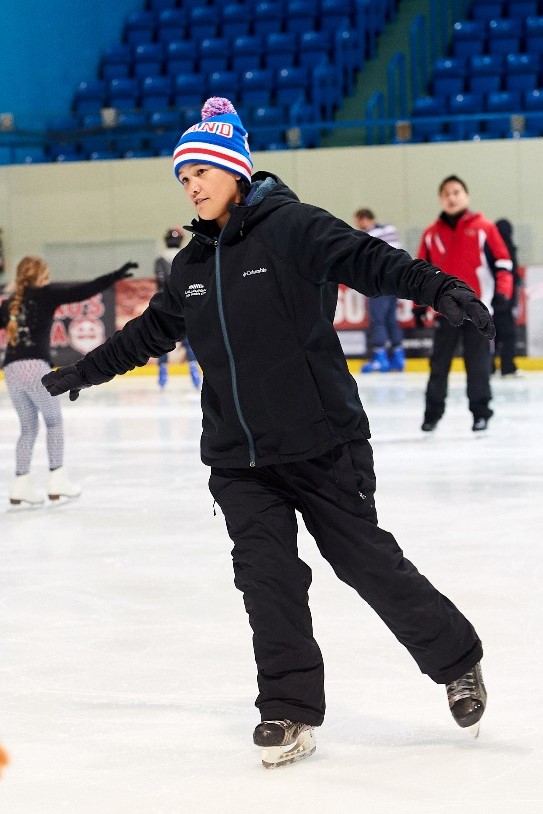 LOUANN CORTEZ
Ice Skating Coach
Louann started ice skating as a teenager and quickly took to the sport, finding a hidden talent in many disciplines on the ice. Having fallen in love with ice hockey, she's proven her abilities representing the Philippines on the ice for eight years and as a current coach for the UAE Women's National Team. She also holds coaching certification from the Ice Skating Institute of Asia which allows her to coach Learn to Skate through Delta level. Balance and control are the critical elements of skating that she appreciates most.
Off of the ice, Louann can be found relaxing by the beach, cycling or camping.
Nationality: Filipina
Languages: English, Tagalog
Ask About: Why she hates shoes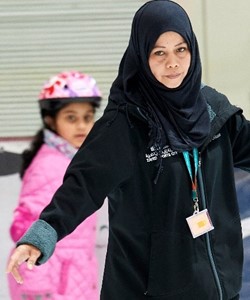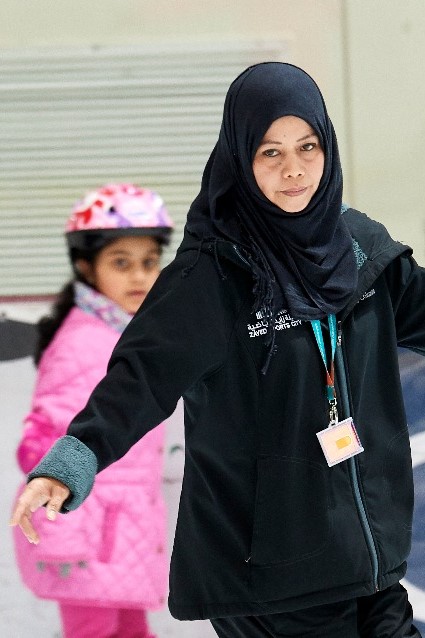 MARILOU DELA CRUZ
Ice Skating Coach
Marilou has a unique perspective on ice skating, having started her formal training as an adult in 2013. This allows her to be empathetic to the challenges of adult learners and patient with young ones alike. She has coached since 2016 and proudly holds certification from the Ice Skating Institute of Asia.
A convert to Islam, Marilou spends free time learning to read the Quran and write in Arabic.
Nationality: Filipina
Languages: English, Tagalog
Ask About: The sport she loves but cannot do well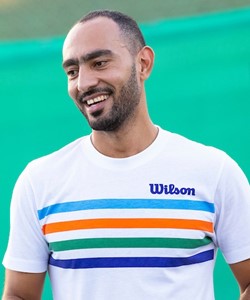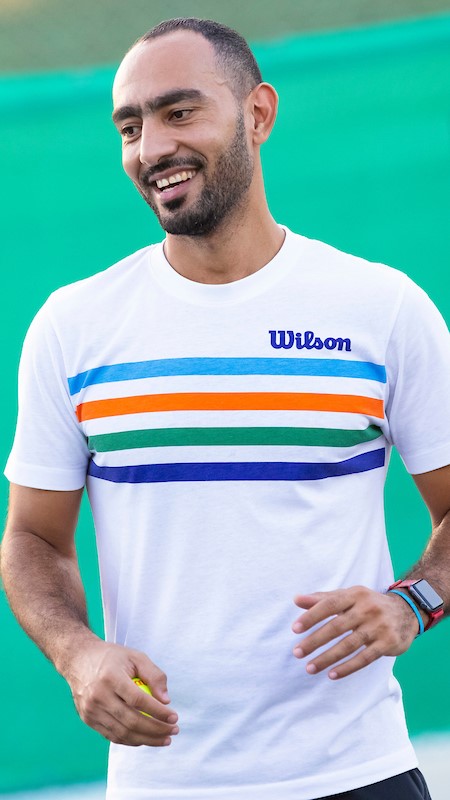 Mohamed Helmi
Arabic Tennis Coach
Mohamed was 10 years old when he took his first tennis lesson and he has been playing ever since. As a junior, he made significant strides, earning several semi-final and final round bids at Egypt's national tournament. Strong play continued as he worked towards his degree in sport science when Mohamed won singles in the Egyptian University Sports Federation.
Following university, Mohamed became a professional first tennis and proved himself as a strong leader by earning Trainer of the Year accolades for his performance. Throughout his coaching career, Mohamed has earned a number of certifications with international institutes including ITF, GPTCA, USPTA and RPT. He's also completed a technical workshop with the International Olympic Committee and supported clinics led by superstars including Novak Djokovic and Rafael Nadal. Because tennis is fun and challenging, Mohamed continues to grow and commit as both a coach and player.
Scuba diving and working out are among the ways that Mohamed enjoys time off the courts.
Nationality: Egyptian
Languages: English, Arabic
Location: Zayed Sports City
Ask About: What is always in his tennis bag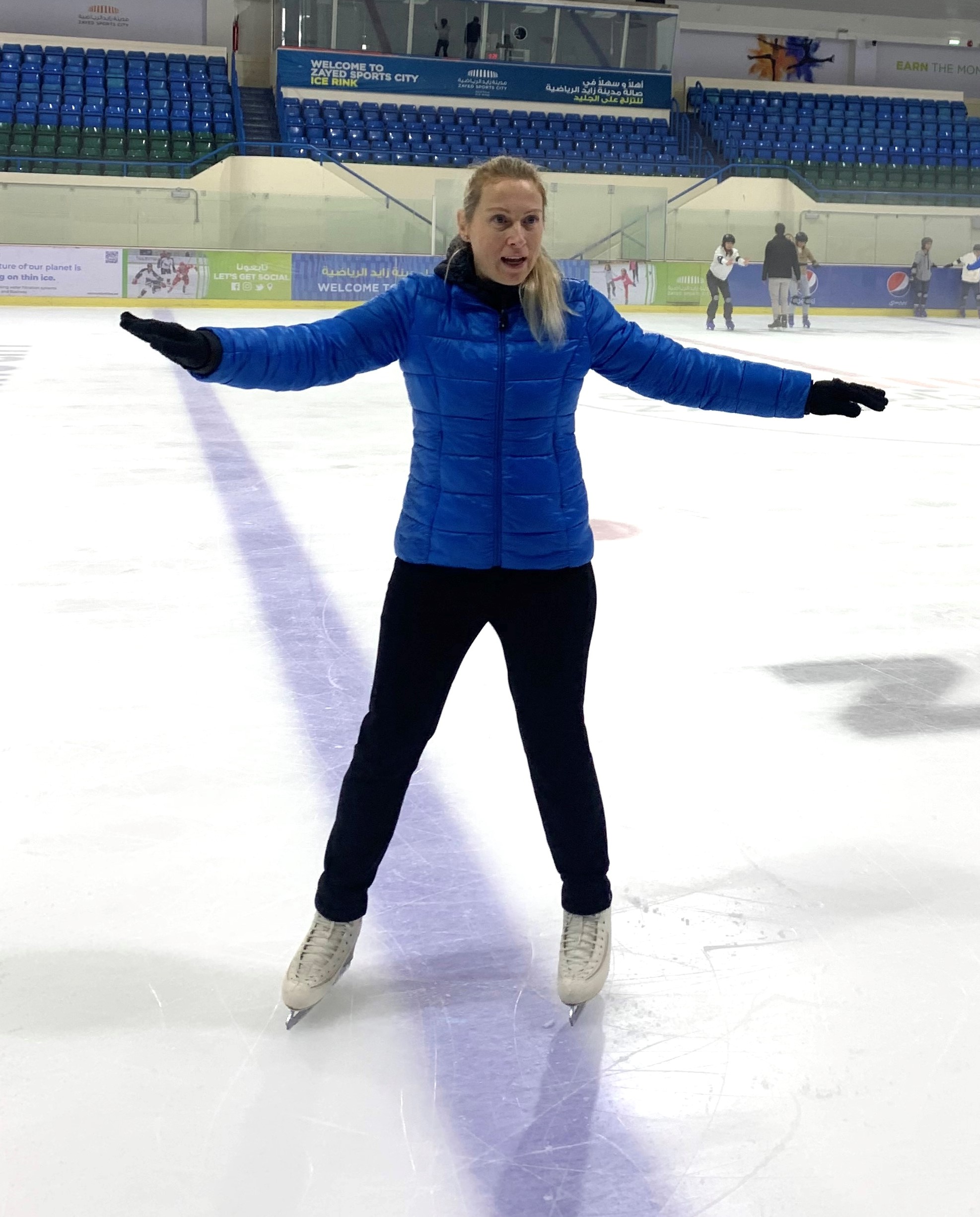 Noemi Bedo
Head of Skating
Since the age of 6, Noemi wanted to be a figure skater. As she grew, her passion grew with her. Supported by her parents, she would visit the local rink several times a week to support her passion of pursuing the sport professionally. Her talent was clear, and she rose through the ranks, winning three Romanian National Championships and earning invitations to compete in a World Championship, the European Championship, and Youth Olympics.
After earning a degree in sport coaching, Noemi eventually found herself in the UAE where she made big impacts on the figure skating world. She created the first Learn to Skate and Figure Skating academy in Abu Dhabi and was a key figure in the UAE gaining membership status within the International Skating Union. She was Zahra Lari's coach in 2011 when the UAE icon rocked the figure skating world by competing internationally in a hijab; since then Noemi continued to support the development of sports in the capital.
Noemi loves to spend time with her family in her free time. She also enjoys reading and camping.
Nationality: Hungarian
Languages: English, Hungarian, Romanian
Location: Zayed Sports City
Ask About: Fishing and snorkeling in Oman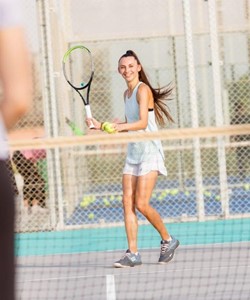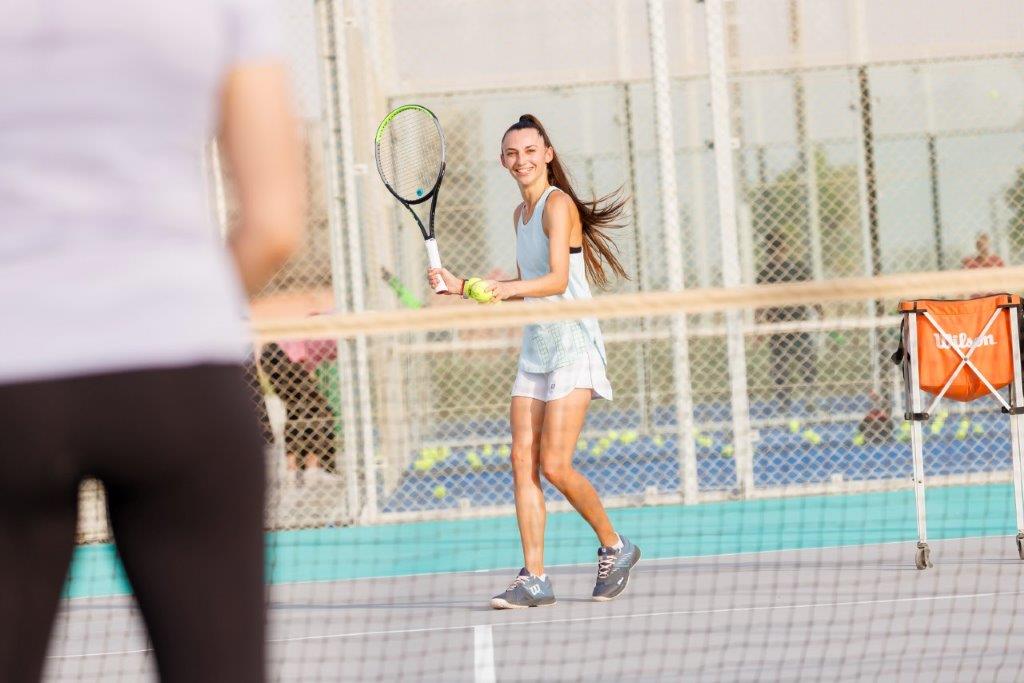 Renata Rebecca Alfoldi
Tennis Coach
Targeted as a performance tennis player since age 5, Renata's tennis achievements span decades and continents. As a junior player she won her county's championship when she was 10 years old and remained a top 10 player until she was 18. Following on this success, she shifted into coaching and became certified by the PTR.
Renata's work in the UAE has nurtured tennis players at all levels and abilities and never shies away from a challenge. Putting in hard work makes the payoff even more worthwhile, and this is what drives her love of tennis.
Swimming, roller skating, ice skating and family time are Renata's favourite ways to enjoy her free time.
Nationality: Romanian
Languages: English, Spanish, Romanian
Location: Zayed Sports City, ACTIVE Al Maryah
Ask About: Rod Stewart's concert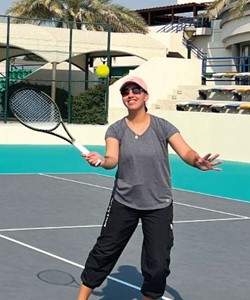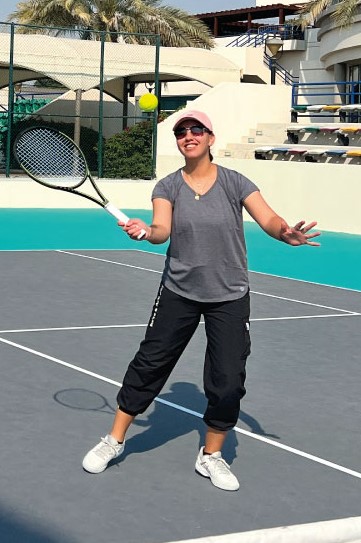 Salma Abdelrahim
Arabic Tennis Coach
As a four-year-old, Salma fell in love with tennis because she thought it was magic. While walking through a local sports club, she watched a tennis ball stay suspended in the air during service and wanted to learn how this trick was done. Her parents happily enrolled her in the sport and while she learned quickly it was not magic, she was hooked on the sport. Before her 16th birthday, she was already a U-18 top-3 player in Egypt and had ITF points.
Her talent earned her a place in the Division I NCAA competition in the USA where she earned more than a dozen accolades in her conference, a Louisiana All-State Honorable Mention, and some WTA points. After earning a business management degree, she was still not ready to hang her racket and started to pursue a career in coaching by getting PTR certified. She's since coached in the USA, Egypt, and UAE.
Salma is pretty tennis obsessed and even in her free time you're likely to find her on the court or watching matches.
Nationality: Egyptian
Languages: English, Arabic
Location: Zayed Sports City
Ask About: Her super strict professor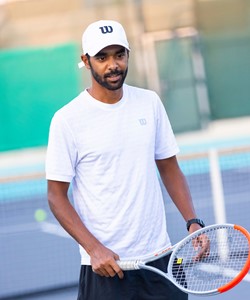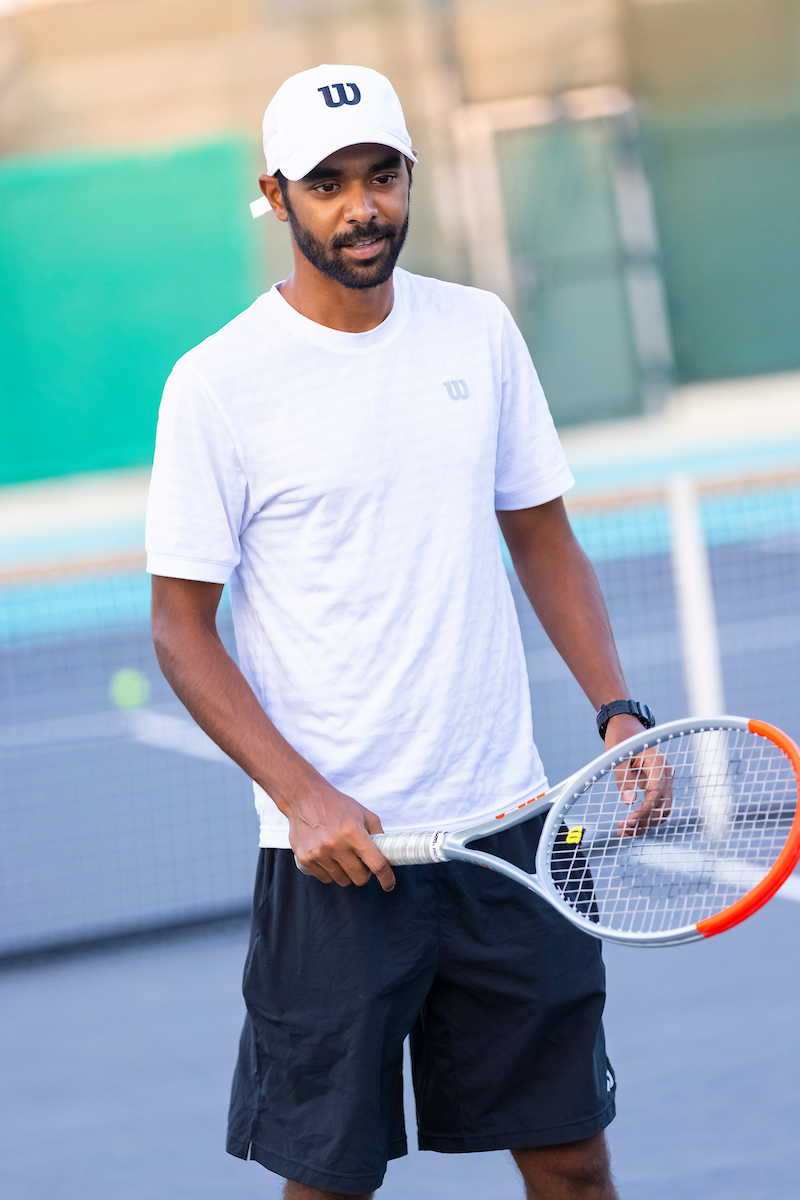 Sherif Nazir
Arabic Tennis Coach
Once he started playing tennis at 6 years old, Sherif could not be slowed down. A celebrity on his home country's tennis circuit, Sherif ranked as a top 15 player in his country for his entire time playing, eventually reaching the Number 2 spot in Egypt. He has collected wins on both the ITF and ETF circuits.
Tennis is where Sherif focuses most of his energy, both as an active competitive player and as a coach. His on-court experience combined with coaching qualifications from the ITF and GPTCA have helped him get maximum performance from his players, including several junior players ranked in the Egyptian top three. Watching his players move closer to their goals is a big motivation for Sherif to continue in this career.
In addition to being a great tennis coach, Sherif is a DJ who mixes music in his spare time.
Nationality: Egyptian & Mauritian
Languages: English, Arabic
Location: Zayed Sports City
Ask About: A big recruiting mistake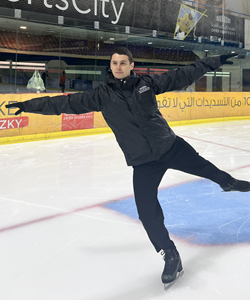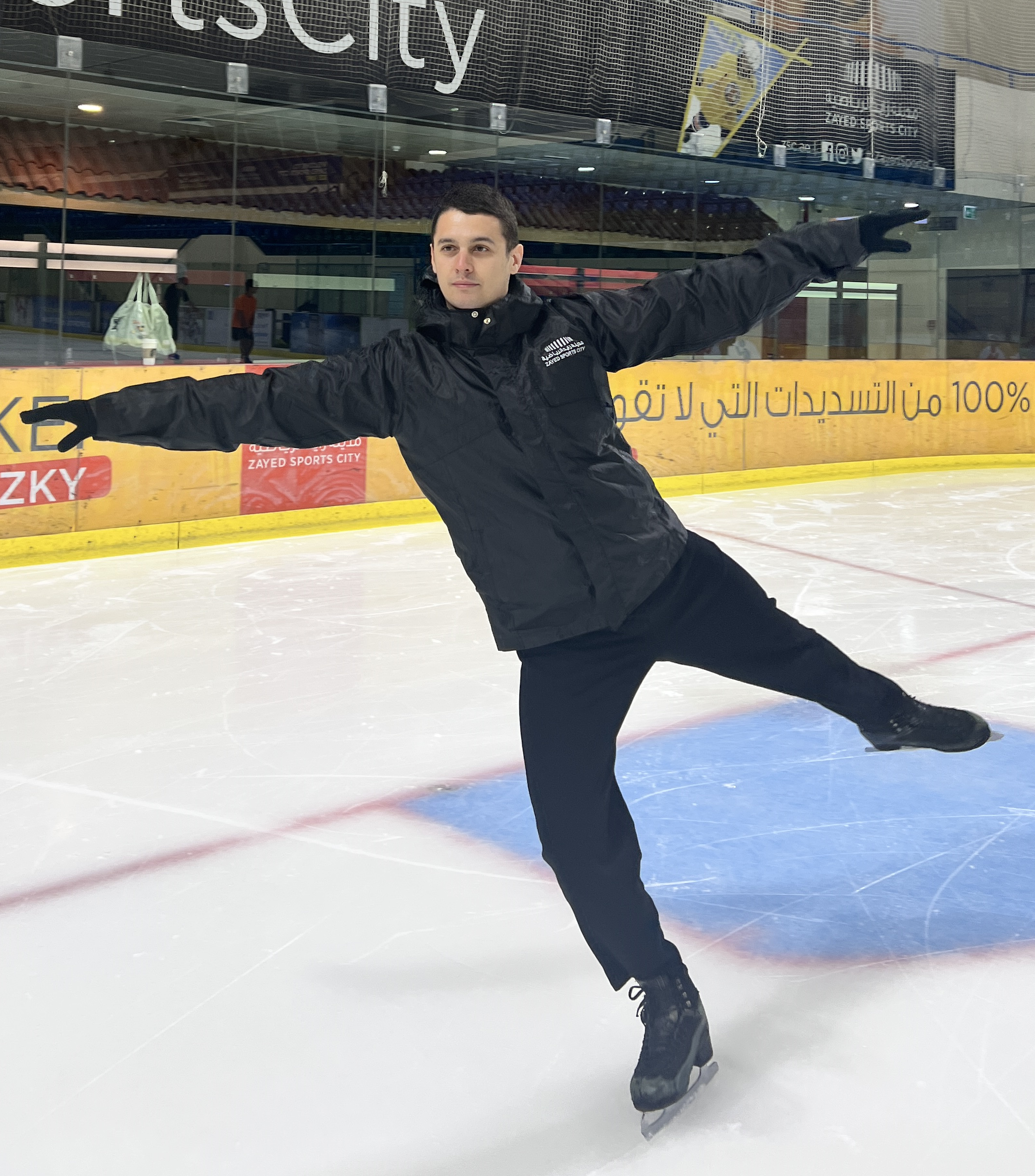 Jenia Kovalov
Figure Skating Coach
The son of a figure skating coach, Jenia was already hooked on the sport by the time he was 4. He attended classes in his hometown before transferring to a sport development centre. Under the guidance of high performance coaches, competed in international competitions including top scores in the Ukraine National Championships (top 5) and the Winter Sports International (top 3). Though he liked competing, it was the coaching element that he really connected with, leading him to pursue a Master of Physical Education and Sports and coaching certification from the Ice Skating Institute (ISI).
In his decade of coaching, Jenia counts three national champions among his former students. His favourite part of coaching is watching a development plan become successful (especially jumps), and the underrated element of off-ice training. He is a sport researcher, having published articles in scientific journals.
A self-described "IT Guy", Jenia likes to code in his free time, as well as swimming, playing football, and travelling.
Nationality: Ukrainian
Languages: English, Ukrainian, Russian
Ask About: His celebrity doppelganger.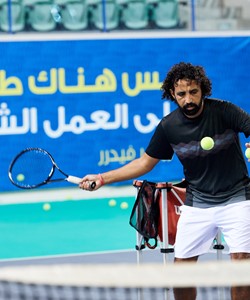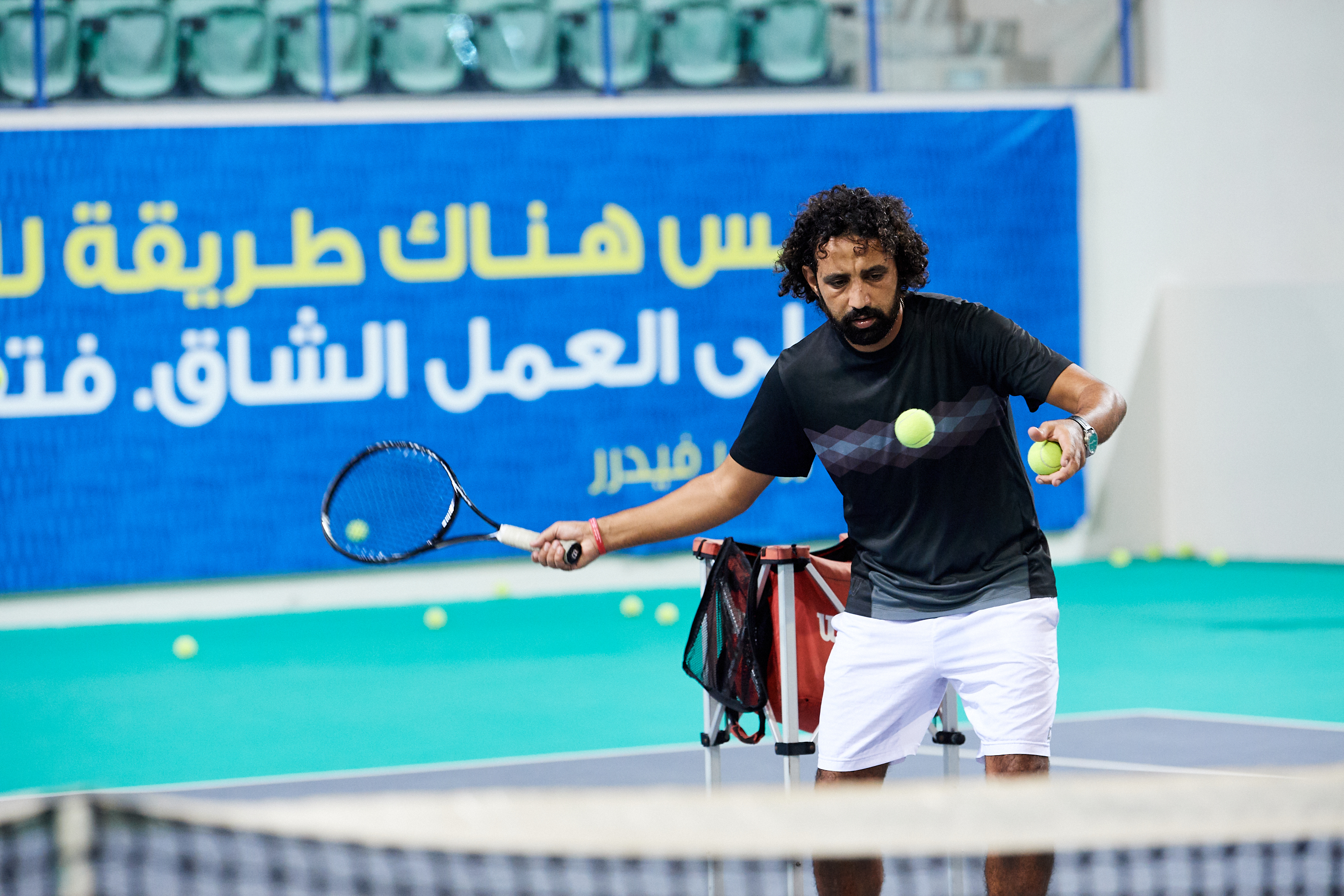 Omar Mohamed
Tennis Coach
Omar has been involved with tennis for nearly two decades. A coach since 2006, he spent a year working with the South African national team, a stint on the staff of Juan Carlos Ferrero Academy, and developed his U12 team into the Top 10.
In addition to certification from the International Tennis Federation, Omar has a degree in physical education and coaching. He is heavily involved in Special Olympics, coaching the team in 2019 and 2023, and attending numerous trainings to work with special needs athletes.
The variety in tactics is his favorite part of tennis.
Omar enjoys sports in his free time, such as running and watching football matches.
Nationality: Egyptian
Languages: English, Arabic
Location: Zayed Sports City
Ask About: Snow City